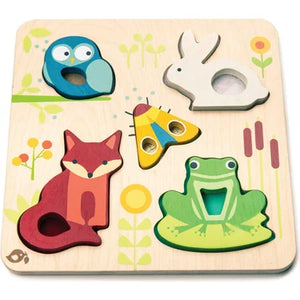 Stimulate your mini's senses with these Touchy Feely Animals.  Lift the shapes and feel the textures under the five different animals.  Encourages minis to learn language and discover tactile senses. 
About Tender Leaf Toys: Tender Leaf Toys creates gentle, beautifully designed toys that promote learning through play. Traditional in concept but contemporary in design, all products are made with a distinct focus on craftsmanship and quality. All toys are made from sustainable rubber wood and for every tree that becomes a beautiful toy, another is replanted.
Age range: 18 months +
Product size: 8.86" x 8.86" x 0.83"