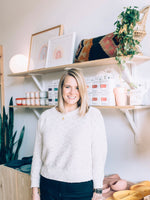 The Three Littles Story
Hi there! I'm Elizabeth, the founder of Three Littles. I was a nanny in DC for almost a decade and I spent six years with three of the greatest little ones I've ever known - In fact, I love them so much I named this shop after them! I always dreamed of opening a children's store, so with the help and encouragement from friends and family, Three Littles was born. I often found myself frustrated by the lack of places to buy sustainable, thoughtfully-designed children's goods so I was determined to fill a shop with only the best things. A place where families could come to pick up necessities and gifts without being overwhelmed by a selection of too many things that no one really needs. Three Littles was founded with the belief that nothing our kids play with should be made by a child somewhere else and that toys should stand the test of time and be something we look forward to passing down for generations to come instead of just another thing that ends up in a landfill.

We are open Tuesday through Sunday from 11-6 at 1260 4th st NE in the Union Market District.
Location
Come Visit Us!
1260 4th st NE
Washington, DC
20002
Tues-Sun, 11am-6pm
202.733.7115
Return Policy
We are happy to accept returns and exchanges for 14 days with a receipt so long as the merchandise is in the original packaging with all tags secured - We reserve the right to refuse returns or exchanges if merchandise is in unsatisfactory condition. All items without a receipt are eligible for store credit up to 30 days.
We do not accept returns or exchanges on holiday merchandise, hats, hair accessories, teethers, dining sets, or pacifiers. We also do not accept returns on any BigStuffed animals with the exception of manufacturers defects.
Uppababy strollers and accessories are eligible for return in the original packaging with all user guides and pamplets intact. Uppababy car seats are only eligible for return in the original, unopened box.
we'd love to hear from you
If you have a brand or product you'd like to see in the shop please send us an
email at hello@threelittles.co with an introduction and line sheet.
For general questions we can be reached at 202.733.7115 during
shop hours or by email at hello@threelittles.co
Psst... Our inventory may vary!
Three Littles is a small, independent retailer so there are a few things online that are not available for immediate purchase in the store. This primarily applies to strollers and gear because there are so many custom options and we want to make sure you get exactly what you want. If you have inventory questions, please feel free to reach out to the shop at 202.733.7115 so we can help!