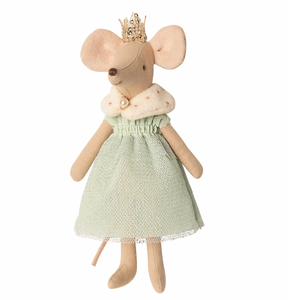 Hear ye, hear ye! All rise for her excellency, Queen Mouse! The ruler of all the mice in the Maileg universe, Queen Mouse is devoted to making sure every mouse feels included, important and cherished!
Queen Mouse is ready to host the ball in her mint-colored gown with her faux fur caplet and knitted golden crown.
The Crown is not removable 
Queen mouse measures about 6 inches tall. The Exterior made from cotton and linen and the inner is polyester.