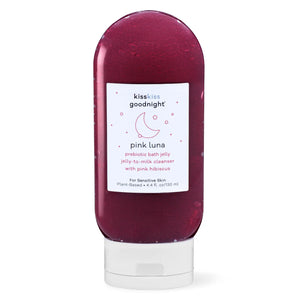 Developed by a mom of 4 who also happens to be a chemical engineer, this microbiome-friendly Pink Luna Prebiotic Bath Jelly is an alternative to bubble baths for kids with sensitive skin. The plant-based, jelly-to-milk formula transforms the bathwater into a vegan milk bath.
Key Ingredients:
* Prebiotics help feed the good bacteria on your skin
* Hibiscus powder is a nutrient powerhouse that provides the skin with omega 3, 6, antioxidants and vitamins and minerals.