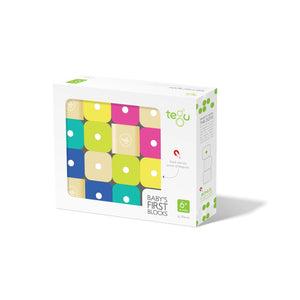 Stack, build or knock over Baby's First Wooden Magnetic Blocks from Tegu!
This 15-piece starter set is a wonderful first introduction to magnetic building. Each block has a dot on other side, one white and one green, to help teach children that opposites attract. Blocks will attach to their opposite color!

Made from sustainably-harvested Honduran hardwood and safe, water-based finishes. We love Tegu not only for their beautiful, high-quality toys, but also for their commitment to their community and the environment.
Each block measures 1.75"
Ages 6 months and up
Made from sustainably-harvested Honduran hardwood