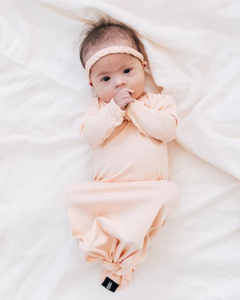 This is the gown you have been looking for! So soft, so sweet and so perfectly designed for optimal comfort, function and longevity. We like to call it the wear it longer gown. Designed in one size, fitting 0-6 months (or beyond) this outfit belongs in every mamas packed hospital bag. Our neckline is designed for quick and easy outfit changes. Our knotted bottom is perfect for all those late night diaper changes. No snaps, no buttons, no fuss. The length is longer than many other gowns on the market and allows for plenty of leg room for baby to stretch out even when knotted. Our gowns are a fitted style but will stretch for all those cute rolls as they come in! Our sleeves have three inch roll over cuffs to keep hands warm and protect their newborn face. You can unroll the cuff to add length in the sleeve as your baby needs it. With our branding tags thoughtfully placed, there is nothing inside the gown to irritate your newborns skin. This gown has everything you need and nothing you don't.
Color: blush 
Material: 95% Rayon / 5% Lycra
Size: 0-6 months plus
Take care instructions -
Machine wash cold with like colors and with like fabrics (don't wash your towels with these soft sweet things!) Forever french products will look their best if you lay flat or hang dry. Delicate cycle on low is second best.