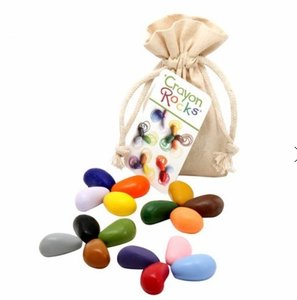 Like all our Waldorf art supplies, Crayon Rocks are completely non-toxic. Made from all natural soy wax grown in the USA, Crayon Rocks tinted with natural mineral powders.
These unique soy crayons produce vibrant colors and beautifully textured drawings. They glide smoothly on paper, and blend and layer beautifully!
Crayon Rocks were developed by a special ed teacher and designed to strengthen the tripod grip muscles, preparing fingers and hands for handwriting. Recent research has confirmed how important developing the tripod grip is for the brain development of young children.
For children, the crayons are just plain fun with their colorful, pebble-like shapes and beautiful colors! 
16 vibrant colors come in an eco-friendly, cotton muslin bag: