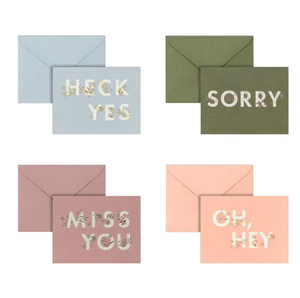 Revisit the lost art of letter writing with our Floral Pick-Me-Up card set.
Twelve A2 sized folded cards and envelopes, with a blank inside, are ready for a poem, love note or a "hey, how's it going" message.
Size: 5.5" x 4.25" (13.97 cm x 10.80 cm).
Features: 12 A2 sized folded cards & envelopes. 4 unique colors and phrases. Blank inside.