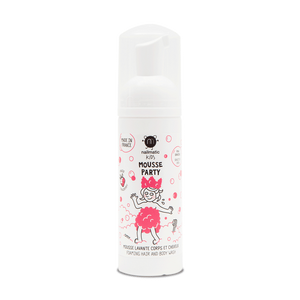 Bath care for kids
Dirt and grime can't resist Mousse Party. 1 product for hair AND body definitely makes your kids life easier. 
User friendly foaming pump to get soapy clean while having fun.  
Light and airy texture.
Leaves the skin hydrated and smooth.
Better even: helps detangle hair. 
Made with 95% of natural origin ingredients.
Especially created for your kids fragile skin.
Vegan, cruelty free. Made in France  
Gloriously strawberry scented
No tears formulation, yay!
Dermatologically and ophtalmologically tested.
Use for kids aged 3 and over. 
Geek tech detail: the foaming pump doesn't require gas. Squeeze pleaaaaaase!
Recyclable packaging.